I am writing this article in somewhat surreal circumstances: it is currently 3.26 am. I am lying in bed. I am unable to sleep. I'm depressed. My football team has just been beaten 4-2 by their greatest rivals. At home.
Today, whilst at this game at the home of my beloved Celtic Football Club, I had the misfortune of sitting right beside the Rangers fans. For those of you who are unaware I shall try to give a very brief overview of the two clubs as this is central to understanding the point of my article. Celtic traditionally drew their support from the Catholic minority in Glasgow and from the Irish diaspora across the world, whilst Rangers are traditionally followed by the Presbyterian (Church of Scotland Protestant) majority. Celtic have, however, always been a club open to all – as our greatest ever manager's faith, and the faith of many in our support testifies. Rangers, on the other hand, have remained exclusive for much of their existence – for example, they had a de facto policy of not signing Catholic players until quite recently. Also, the Celtic fans have tended to vote for left of centre political parties, and have often shown their support for various 'oppressed' peoples across the world. Conversely, Rangers fans are generally more conservative and can be characterised as both Monarchist and Unionist (with regard to Britain). The derby game between the two is often referred to as one of the most heated derby games in the world, often acting as a microcosm of the Catholic/Protestant sectarian divide that exists in the West of Scotland and the North of Ireland. The atmosphere can be poisonous.
Young Jewish football followers who grow up in Glasgow are one of the few groups that actually have a choice over what team to follow, rather than having the team picked for them by the context of their social, political or religious beliefs. When I grew up in the 90s, the Jewish support generally tended to be for Rangers as they were in the middle of the most successful period in their history (and the Jews I knew were glory hunters!). What I actually want to examine in this article is whether it is at all appropriate for Jews to support Rangers, an argument borne out my experiences at the games today.
It might come as a shock to some people that I would even propose this – after all it is fairly well known in Jewish circles that Celtic fans fly the Palestinian flag and Rangers fans fly the Israeli flag. Well this is first point that I shall deal with. As mentioned previously the Celtic fans have a history of showing support for peoples in the world seen as 'oppressed'. Whether some of us like it or not, the Palestinians are a people that are seen as oppressed in the world today. Consequently, there have been some instances where Celtic fans have flown the Palestinian flag at matches. However, this is by no means a regular occurrence – it only takes one fan with a flag, and the flag to be picked up on TV for a label to stick. There is no comparison here with the number or Irish flags or even Basque flags that are flown on a regular basis.
The Rangers fans decision to fly the Israeli flag is an altogether more complicated issue. One school of thought suggests that it is merely a reaction to the Palestinian flags from the Celtic fans. However, in my opinion there is something deeper to it than that – sadly, these Rangers fans actually see Israel as being right wing and extreme, and therefore something they can identify with.
You see the event that pushed me over the edge today was having to sit beside 8000 fans doing Nazi salutes towards me for 90 minutes. I'm sorry but I didn't come to the football for that. My family didn't flee persecution in Europe for me to have to sit and put up with that in Glasgow in 2008. So my brother complained to the police. "I'm sorry sir, I understand your concerns but this is beyond my remit." It is a sad indictment of Scottish society that this behaviour is ignored and, by extension, condoned.
The Rangers fans usual response to the accusation of Nazi salutes is that it is a 'red hand of Ulster' salute that has been mistakenly identified as Nazi; however according to the website of Loyalist FM, a pro Rangers, pro Unionist radio station in Northern Ireland, this is a complete fabrication:
"The red hand salute is merely a symbol which fans embarrassingly hid behind to condone the support of Neo-Nazis within Britain's shores. It's time to educate the uneducated, make it clear to the idiots that this mythical Red Hand Salute does not exist and it has no place amongst a Rangers support that we are extremely proud of."
Unfortunately this warning does not seem to have been heeded as the picture below confirms.
The general mindset of the Rangers fans can be summed up by one simple song that they sing: "We Are The People." They see themselves as white Protestants who are superior to any minority. It is the sort of mindset which led to the despicable scenes in Manchester in May 2008, when the fans rioted during the Uefa cup final – they see themselves as untouchables who can do whatever they like. When the Celtic goalkeeper blessed himself in front of them at a game last season (something that players do the length and breadth of Britain every weekend) he was cautioned by police as it "could cause offence." Well, I'm sorry, but in my opinion this says more about the offended than the perpetrator. The fact that they are unable to deal with someone who is different from them speaks volume. This, after all, is a club who went 115 years without signing a Catholic player (very similar in fact Beitar Jerusalem's policy today on Arab players).
At the game today they sang a horrendously racist song which suggested that descendents of the Irish potato famine should go home. One could only imagine the reaction at a Spurs game if descendents of Holocaust survivors were told to 'go home'.
I feel it is time I spoke about my feelings. I don't understand how anyone with any sense of Jewish identity can bring themselves to support a team that finds itself tied up in such bigotry and sectarianism. The line often trotted out is that both teams are as bad as each other – well I challenge anyone to point to anything that comes from Celtic fans which is discriminatory.
Maybe next time somebody thinks about having some sympathy for the mighty Glasgow Rangers as they wave Israel flags they should look a little deeper before making their decision. Jewish people should have a duty to speak up when others around them are being discriminated against. The salutes seen below are really just the tip of the iceberg.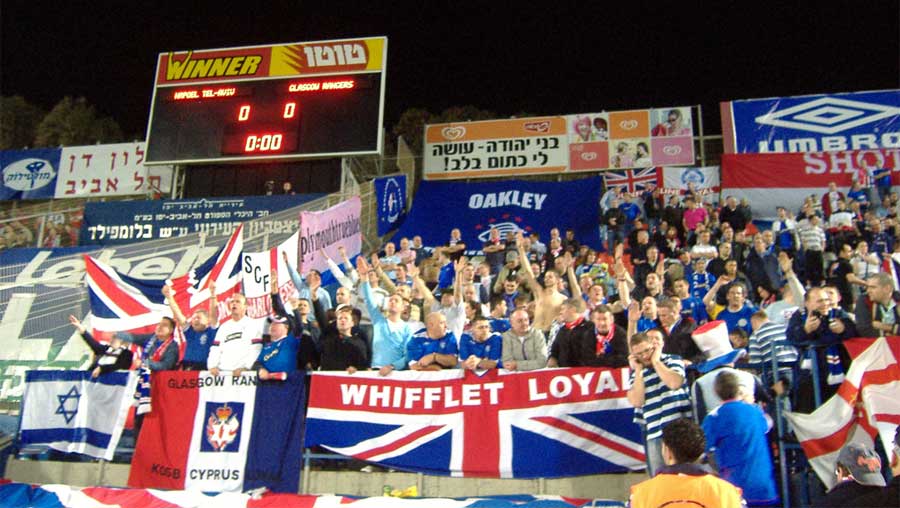 This article was written for the ideological journal for the largest Jewish Youth Movement in the UK. If you want more details please pm LiviCeltic.